---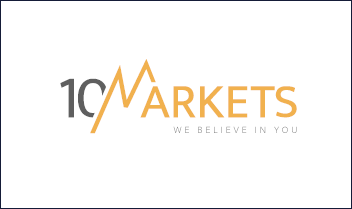 10Markets have been operating since 2014 and have chosen to be regulated by the UK financial standards; this is a sign of their professionalism and dedication to providing a first class service to anyone. Their site is incredibly easy to use and well laid out optimizing the experience for traders and enabling them to focus on what really matters; making successful trades.
The firm offer returns on investment of eighty three percent; impressive for any kind of investment opportunity. They have a good welcome incentive scheme which will match your initial deposit, which must be a minimum of $200 (fairly standard in the industry). 10Markets will allow you to trade from as little as $10 per investment, with a maximum limit of $2,500.
Advantages
Easy to use website with a number of essential features all based on the Panda TS software.
They offer a wide variety of types and options to trade in, helping to make it possible for any trader to trade successfully.
There is a trial account which can be useful for you to become acquainted with their software or simply improve your understanding of binary options trading.
Disadvantages
Accessing your funds when removing them can take as long as five days; not the best in the industry.
Traders from the US are not able to use this service.
10Markets Trading Accounts
There are three different account levels ranging from a starter type account to the top of the range offering. The first level requires a deposit of $200 and will allow you to trade with the assistance of a few educational videos and access to an account t manager. From her you can move up a tier and invest up to $2,500 which will allow you access to a bigger range of assets to trade in.
The top tier will handle any larger deposits, up to a maximum of $20,000. At this level you will gain access to the whole range of assets and as many educational videos and materials as you wish to consume!
10Markets Trading Platform
10Markets is relatively unique within the binary trading field as it offers the ability to trade via the money markets. You can gain direct access to Forex and CFD trades as well as binary options. Alongside this they have developed an excellent mobile app which will allow you to continue monitoring your trades and placing new ones even when you are not at your computer. The only small flaw with their mobile app is the fact that a speedy login will take you to the 10markets website and you will need to be on the homepage. Once you have figured this out once or twice it will become second nature.
There are a lot of features on this trading platform which help you to trade successfully and react quickly to market changes. Graphs and other useful information are displayed in the center of the page with the range of options for your trade type spread around them.
You can choose to take short or long trades as well as simply predicting the price direction or choosing from a range of other options including setting your own boundaries. You current profits can be displayed at a click of a button, as can your running trades.
Alongside a good range of assets you will find useful tools, such as the financial calculator; this provides an up to date economic picture ensuring you have the very latest information available before placing any trade.
10Markets Deposits And Withdrawals
Surprisingly 10Markets only offers three methods of depositing funds; this is via a standard wire transfer or any mainstream debit / credit card. Whilst this will be sufficient to most traders, there are a huge range of options not currently catered for. Having said that, creating an account and depositing your initial funds is easy. To withdraw funds you will need to have completed all your identification and verification checks, including sending proof to them. Once this is done a withdrawal request will be processed within five days.
There are no withdrawal fees but you do need to request a minimum of $100 before you can access your funds. The banking facilities work very well and should not put you off using their servicer although it is not quite on par with some of the offerings from other brokers.
Customer Support
Live chat has become something that traders expect to find on a broker's support page and 10Markets does not disappoint. The response is virtually instant and you will be attended to by a friendly yet knowledgeable member of staff. There is a limited support service available at all times of the day but the instant response service is best utilized between ten in the morning and six in the evening. It is also possible to log your query via email or the telephone, although the response time may be slightly slower.
TOP BINARY OPTIONS BROKERS
More related articles: