---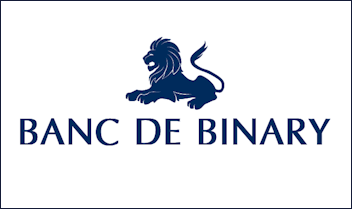 Trading in binary options will provide the opportunity to make some excellent returns on your investment. However, these returns are not without risk and if you fail to plan it is easy to lose money rather than make a healthy profit. The key to successfully trading binary options is to develop a strategy and then stick to it.
Your strategy should be a result of market research, experience, trial and error and, possibly, the advice of others with more experience. Applying this strategy and understanding the markets will enable you to create a good rate of return for as long as you wish to trade. You will also be free to monitor the markets and react accordingly if necessary.
Established Offering
Banc de Binary is a well established broker who is attempting to offer a website which will allow and facilitate traders to operate just such a strategy. To do this they offer a vast amount of educational materials. Any trader who registers with them will gain access to an excellent trial account. This is exceptionally useful for testing new strategies and learning how to trade. You will also be provided with a full range of market information to ensure you know what the market is doing and which assets are the best ones to invest in. Alongside this there are a range of learning aids and helpful tips; combined these should help any trader to identify trends and invest accordingly.
Good Design
The features and assistance provided by Banc de Binary has been created to assist you regardless of your level of experience. The information is arranged according to your experience and you can work your way through it at home or even when out via your phone or tablet! The comprehensive e-book provided free to traders is an excellent source of information and can provide you with ideas as to which strategies may be most effective.
Strategies
There are many different ways to trade successfully; some of the methods are best suited to experience traders whilst others can be easily followed by anyone. The best approach is to start with the simpler trades and work your way up as your confidence, experience and profits grow.
This type of trade focuses on looking at the recent trends of a specific asset. Using this information you will be able to see a pattern in the way the price moves up and down. This will provide a peak price and a bottom price. In this type of trade you are most interested ion where the asset peaks. If it consistently peaks at the same price you will know to purchase an option just before it reaches its peak, you should purchase a price decrease, or put option. It may also be possible to identify a steadily rising price trend, in which case, with the aid of a line on a chart you will be able to predict the next one! Alternatively you can simply trade every time it reaches the bottom and starts to climb again; you will know the price is going upwards. This is a fairly simple strategy which can yield good results.
This strategy may take a little more practice and is often a good one to use after the main movements of the day have finished. Using a graph to show the highs and lows of a specific asset you will be able to see the price bracket the asset is staying within and if there is any trend in its upward and downward movements. You will then be able to predict a price that it will touch at least once during a specific time frame; the timeframe used is often the last hour of the day or even the weekend. Providing the asset touches the price you have specified you have won your trade!
More related articles: