Exponential Moving Averages and Binary Options
---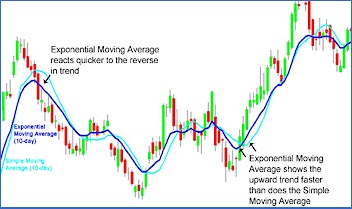 The Exponential Moving Averages is a useful tool for locating price movements and trends, once mastered it can become a valuable addition to your market analysis and help you place the right investments. The average is generated by comparing the price of an asset to any current trends. The more recent the data you are using the more accurate and quicker you will see the exponential average.
It is possible to look for trends using regular moving averages, however, these focus on handling all data in the same way; this generally results in a delay in spotting trends.
Adopting an approach using exponential moving averages is especially useful if you are dealing with thirty day time spans and you view an assets activity over two time spans. Generally the two time frames should be different with the first frame longer. You can even decide whether you are dealing with a bullish or bearish market by simply using a twenty four hour timeframe and seeing if the price of your asset rises above the 30 bar or not. Above means bullish, whilst below shows bearish.
It is important to stay aware of the current price of any asset. Its relation to the trend can demonstrate it is about to change direction. This is usually illustrated by the actual price staying above the moving average for a considerable period of time.
When you see this happen it is time to either stop trading in this asset or to look at when it will start to slow down and reduce in price, you can then trade accordingly. Alternatively it is possible, if you are confident that the asset is not about to meet resistance then you should start looking at the thirty minute bars. These can provide an excellent indication of whether it is likely to continue moving up or down. You can then combine this data with the way the asset has moved within the last two weeks, or even the last month. You may then be able to identify a trend which you can use to calculate whether to buy a put or call option and when to buy as well as when your option will need to expire.
Understanding the way exponential moving averages work can be difficult but, once you have gained an understanding you will be able to use this valuable tool to help you predict the expected direction of movement for any asset. This will allow you to increase your percentage of winning trades. The best way of learning how to use exponential moving averages is to look at the past price charts for a selection of assets and apply exponential moving averages to the information you have. You can predict the future movement and watch to see whether you are correct or not; without risking any of your funds. Once you have successfully mastered this technique you can improve your success rate while trading binary options.
More related articles: