Binary Options Mobile Trading
---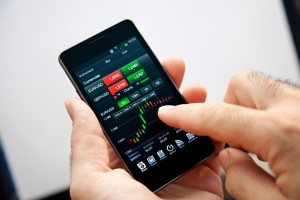 The rapid advancement in technology in recent years has made it possible to access the majority of binary trading platforms via your Smartphone. This means that you no longer have to be sat in front of your computer to monitor the process of your trades or even instigate new ones. In fact, many brokers now provide access to the same tools and analysis on your mobile that you can see when sat at your computer. Some brokers have even started to offer an additional bonus for any trader who wishes to start using a Smartphone to monitor and place trades.
Download the Mobile App Of Binary Options Broker
The first step for binary options mobile trading is to download the mobile app onto your Smartphone. The most common mobile platform is the Android and iOS ( mobile Apple devices ),although many brokers offer one that is compatible Blackberry's and even Windows phones.
The first step is to visit your broker's website and log into your account. You should then be able to find an option for mobile app. If you are unsure you can contact the customer service department who will tell you where it is. Double clicking on the app should start the install; once it has completed you will be able to access it and login, just as you would on the computer.
Your account details and funds are exactly the same; in fact, some brokers simple have a mobile friendly version of their web page so you are accessing the same thing which you usually do.

Limited Choice Of Binary Options On The Mobile
Brokers are still improving the options in respect of mobile platforms. As such it is common to find a limited range of trades possible. You can quickly discover whether the options you usually use are displayed on your phone. If they are not it may mean that you need to access these facilities specifically in your computer. Again, customer service will be able to help with this.
All the most popular trading options should be present and you may find that others are added as time progresses.
Easy Binary Options Mobile Trading in A Click Distance
Downloading and installing the mobile app should be simple and fairly quick. Once this has been done it should be very easy to get started. Once you have logged in you will either be faced with the same set up that you are used to on the website; in which case you already know how to find the trades you want. Alternatively the mobile site may be much simpler and you will need to hunt for where you can locate the type of trade you require. However, it should be very easy to navigate and locate any item. Just as on the computer you can select a trade, initialize it then leave it to run itself.
Get a Binary Options Bonus Once You Start Trading Binary Options On Your Mobile Phone
Binary options brokers are eager to get traders using their mobile apps and many of them are offering special bonuses for your first trades. The bonus can be significant although it varies between binary brokers, the amount you intend to invest and how often you intend to use the mobile app. If you have an account manage with your brokerage account you should check with them first, they may be able to authorize a little more than the standard offer. The bonus may even be related to the volume of mobile trades you commit to.
More related articles: