---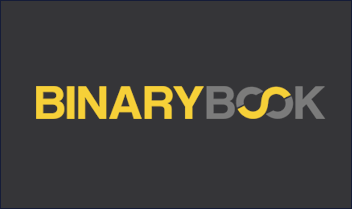 In the very competitive binary options industry, BinaryBook stands above the lot and outpaces its competitors in numerous ways. There are very few brokers who offer such a high level of professionalism. BinaryBook actually operates under the ownership of WSB Investment Ltd and is based in London, United Kingdom. While going through the all the features that this brokerage firm has to offer, it became more obvious how the fascinating ascension of BinaryBook occcured. We were pretty much amazed with what we found while researching this broker, we will share the details during the course of our review.
There are no discernable discrepancies between what was claimed by the broker to be on offer and what it actually is. The operating software of BinaryBook is provided by SpotOption which provides the most popular and user friendly platforms. BinaryBook provides a PCI certified trading platform and provides user security through HTTP secure web protocols.
BinaryBook Accounts
BinaryBook caters for a large range of traders and does not want to limit itself by alienating either beginners or experienced traders. To ensure all traders have the best opportunity there are a variety of types of account available; the account which will be offered will depend upon the amount of funds a trader is prepared to deposit. Each account can be adapted to the requirements of a trader. It is worth noting that there is no demo account option yet.
Micro Account
Traders can benefit from this account with just a minimum investment of $250. The account is aimed at traders who have just entered the industry. It is considered to be an entry level account and traders should move to other account types once that they have garnered enough of experience. At the base, though this account offers elementary features, in our opinion it has all the essential features to ensure a trader can get used to the market mechanisms. Although basic this account offers a generous twenty percent welcome incentive and the ability to see all the daily market news and reviews.
Basic Account
For a few additional benefits a tarder will need to fund their account with a minimum amount of $501. Once the account is opened a trader will be awarded a fifty percent welcome incentive and more information to ensure they know more about the binary options industry than the micro account holders.
In line with this there are a variety of additional features, these include access to certain extras which includes Trading Signals and even a personal account manager. In addition access to the basic signal package is included; this will provide account holders with signals regarding which trades should be undertaken. This benefit would cost $200 if being added as an extra. It is also possible to access several trades which can be completed at no risk; if they are unsuccessful the broker will simply refund your investment.
Gold Account
This level of account provides several advanced features. Available as from $ 2,501, it comes with an impressive seventy five percent welcome incentive. It is also possible to request additional assistance from one of the experts online. They can offer a range of tips and techniques to ensure every trader makes the most of their trade. Anyone using this account is definitely moving up a full-fledged stepping stone and improving their abilities in this difficult industry. In addition to this any trader with this type of account will receive two free trades; these are at no risk; if unsuccessful the funds are refunded, if not then a healthy profit has been generated. Traders will also gain access to the gold level trading signals; this is worth $500 a month by itself and is a valuable as well as useful trading tool.
Platinum Account
BinaryBook also offer an account which is perfect for anyone looking to invest over $10,001. Of course, anyone depositing this kind of funds will expect more for their money. Fortunately this broker is able to provide just what they need. This type of account is generally used by professional traders, particularly those which like to invest in high volume trades and have the experience to do so safely. The initial deposit is matched by the broker providing an impressive boost to your funds. There are also five risks-free trade which can be used at anytime and even a training option which equates to between five and ten hours of expert tuition from the broker's experienced staff. Traders will also benefit from access to the platinum trading signals; this package is valued at $1,000 monthly.
VIP Account
This is the top account which, as its name suggests will confer VIP status on a trader operating at this level. BinaryBook ensures that anyone trading at this level has full access to all the features and benefits available. Traders will need to start by depositing a minimum of $50, 000, At this level it is essential that a trader has already gained a good level of experience in the markets. To aid this BinaryBook will provide as much assistance as possible to ensure every trader has the best chance of unlocking their full capacity. Every trader with the VIP account is able to customize the features offered by this broker to ensure the best possible chance of success. Anyone using this account should speak with the support team at BinaryBook to ensure they are reaching their full potential. This is the advantage and the expectation of any VIP trader; BinaryBook works hard to ensure this is the service all their traders receive.
Islamic Account
Trading should never stand against any of your beliefs, BinaryBook made sure that traders of Muslim faith are able to trade without breaching any of their religious convictions. In order to do this, an Islamic account have been set up to be fully compliant to the Sharia with a No Riba Policy. There are still many brokerage firm not offering an Islamic Account type.
BinaryBook Features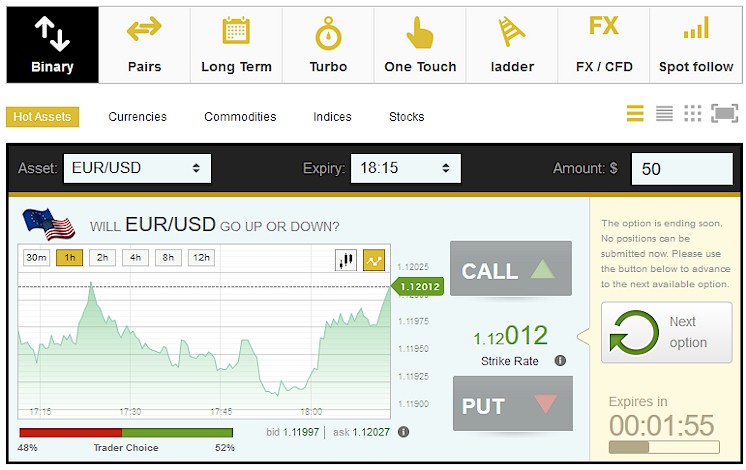 Traders can choose from eight different trading options. The high level of options available helps any trader to find the right type of trade for their current abilities. It also provides a valuable incentive into what other strategies are available. Minimum investments can start at just $5; with the right option, such as the Turbo, you can generate a good rate of return within thirty seconds. The options available are:
Classic Price direction

Currency pairs

Long Term trades

Turbo – for when you need a fast turnaround

Touch – this can be one touch or no touch depending upon the market.

Ladder – multiple trades which effectively piggy back on each other and are high risk as well as high yield.

FX/CFD

Spot Follow
Trend Analyzer
We have found many notable features which form part of the key characteristics of BinaryBook conferring to the brokerage firm a sense of superiority in term of concept. Let's start with the trend analyzer. The trend analyzer is an innovative tool which traders will surely appreciate, at least we do. It actually uses a variety of different indexes and tools, these include the Relative Strength Index, Bollinger Bands and Simple Moving Averages. Combined this information can assist a trader to see in which way the market is moving and is likely to continue moving. This is a useful tool to help any trader choose the right trade and generate a profit. The more information and the deeper the understanding of the market the easier it becomes to generate good rates of return. This tool will allow a trader to see the signals relating to both price increases and decreases. They should then be able to read the signal and identify what the asset price is most likely to do and trade accordingly.
Double Up feature
As the name suggests this option can be applied to almost any trade and allows a trader to place twice as much money on a trade; providing it is at least five minutes before the expiry time of the trade. This is very useful if it becomes apparent that a profit is likely and a trader wants to increase their returns. Of course, doubling an investment does increase the risk. As this feature is available to traders at all levels it is essential to know what you are doing before you start increasing your exposure.
BinaryBook Mobile Trading
BinaryBook has put in place a Mobile Application section which will allow anyone to trade on the go. You no longer need to remain scotched in front of your pc or laptop, you can now receive signals without missing any trade opportunities. Available from Google Play and App store, the mobile app is free of charge and is a delight to be used.
BinaryBook Withdrawal and Deposits
There are numerous methods for adding or removing funds from your account. BinaryBook offers withdrawals through international credit card brands such as Visa and MasterCard, they also offer a range of electronic options, such as e-wallets, which have been made available to retrieve capital invested or profits generated. Bank Wire transfers which is often the preferred method is another option. It is good to note that BinaryBook being PCI Compliant with an SSL encryption system, means that all personal information is retained securely.
BinaryBook Bonuses
Bonuses are a section which most traders look forward to. Those offered by BinaryBook have already been discussed in the previous account types section. The value of any welcome incentive will be subject to the account you have been awarded. The idea that higher bonuses come with higher deposits is used across the industry and is generally a fair way to proceed. It would not be reasonable to for someone with the Micro account to get the same level of bonus as the Platinum account holder.
There is an additional bonus incentive offered by this brokerage. Should a trader introduce a friend, then as soon as the friend has opened the account and started to trade both parties will be entitled to a $100 extra; this amount is placed automatically into the trading account.
Customer Service
The customer service team are available at all times to assist with traders requests. It is good to put on record that it is possible to speak to a customer support assistant in either Arabic, English or Turkish. BinaryBook have worked hard to ensure they have a first class support team, much to our appreciation. They can be contacted via the phone or through a standard email address. However, to receive the fastest response it is advisable to use the live chat feature which is on the website.
Conclusion
BinaryBook did not skimp on means to provide great features to traders of all walks. Features are nicely explained so that all changes are on the side of traders to get a great trading journey. The withdrawal and deposit have been tackled in such a way whereby traders have no difficulty to go through the process. The platform have been crafted in such a way that traders are encouraged to unlock their full potential. We would definitely recommend BinaryBook.
TOP BINARY OPTIONS BROKERS
More related articles: