---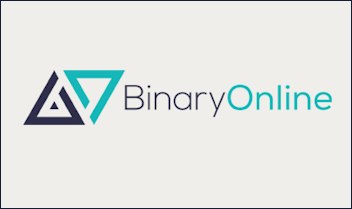 Being one of the recent addition in the binary options industry, BinaryOnline has already started to impose itself as a leading broker by proposing innovative and interesting features. Launched in 2016, BinaryOnline is a subtle mixture of an advanced technology blended with a high level of professionalism.
Unlike the other brokers available in the industry, BinaryOnline which makes use of Panda Trading Platform has made available 4 different trading tools. Among the trading tools made available by BinaryOnline, are:
One Touch - Being beginner friendly, this tool generates an interesting return on investment which can go up to 85%.
High/Low - The High/Low tool is one of the most popular trading tools of the industry as it is one of the most simple to use. The minimum investment for this tool is $5.
Hyper - Considered as one of the fastest trading tools of the industry due to its short expiry times, the Hyper tool is perfect for traders who want to test their trading aptitudes before starting to trade.
Range - This tool is basically destined to more experienced traders as for this trading tool, traders will need to have an analytical approach to the market before being able to be in the money with their trades.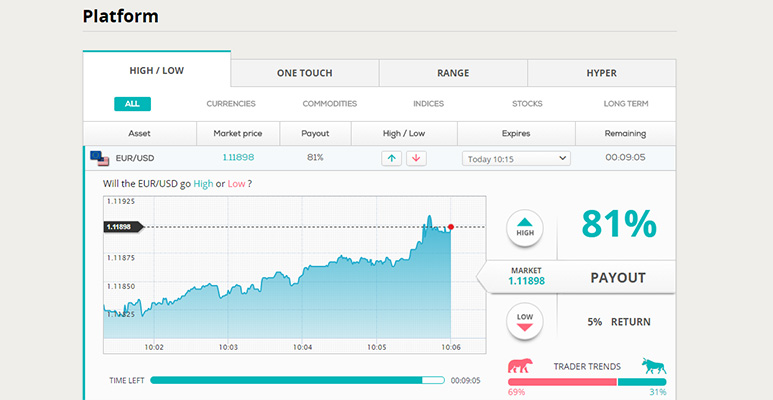 Alongside the four trading tools there is also a unique feature which is not currently available with most binary brokers. BinaryOnline have created an instantaneous live feed which will display the details of any successful trade. These details include the asset and type of trade. You can choose to watch these successful trades and then copy them; on the assumption that a specific trade worked a moment ago and should do so again.
An extension of this principle and one that is more commonly seen is the ability to trade socially. This simply means choosing your favorite trader, or even several traders and watching the trades they place and their success rate. In general you should only watch the more successful traders. Whilst this feature is not unique to BinaryOnline it is an excellent way of understanding which options have a good chance of providing a favorable result and which do not. You can, if you wish, trade in the same way as one or all of your favorite traders.
In addition, BinaryOnline has also made available an area of their site specifically for educating all their customers, no matter how much experience they may have. This part of the site is often referred to as 'Winner's Corner', it contains a large range of learning materials. There are Ebooks, small videos, tutorials and many others learning materials which traders can use to improve their trading skills.
BinaryOnline Bonuses
As with most brokers the amount of additional funds you receive is dependent upon your initial capital investment. Lower amounts will receive a twenty five percent incentive whilst those who are willing and able to invest a little more can receive up to seventy five percent. There are a range of other incentives available such as the ability to trade without risk or regular market updates which ensure you know what the market is doing.
BinaryOnline Deposits and Withdrawals
The minimum investment required to begin a trading journey with BinaryOnline is $250. This minimum investment will guarantee a twenty five percent welcome incentive; it can be deposited by one of three payments methods; these three methods are Credit or Debit card, E-wallet and Wire transfer.
In order to provide a good level of security for all trader's, BinaryOnline has put in place a set of procedures which have to be respected before you can begin trading. These measures include the verification of who you are; this must be completed after you have submitted your funds and before you place any trades. The process of verification is simple; you just need to provide a confirmation of your address; your identification and a copy of your payment.
Concerning the withdrawal procedures of BinaryOnline, it normally takes around 3 to 5 working days to be processed. However, sometimes it might take longer for different reasons, such as missing documents.
BinaryOnline Accounts
Number four would appear to be the favorite figure of BinaryOnline. Besides providing only four trading tools, this broker has also made available four different types of account. It is worth noting however that BinaryOnline is not currently able to offer Demo accounts.
The take off account: This account requires you to deposit funds of at least $250. Any trader eligible for this account will gain access to a range of benefits, these include twenty five percent of your deposit provided as a welcome incentive and the ability to access to the extensive educational part of the site.
The Standard account: It is necessary to deposit at least $2500, the Standard account offers a welcome incentive of 50%. Alongside this useful and impressive bonus, any trader provided with this type of account will also have the chance to obtain free trading signals and many others benefits associated with this account type.
The Premium account: As its name suggests, the Premium account is for the big league. Obtained with a minimum of $10 000, this account type offers higher payouts than the other accounts and also include a live trading session with an expert trader of BinaryOnline.
The Elite: Finally, there is the top of the range, Elite account; this is available with deposits over $50 000+. Anyone wishing to sign up to this level of account will need to deal directly with the customer support team. They will be able to advise the best options and what incentives can be provided. They will also help you to get the account set up.
Customer Support
The customer service team can be contacted at any time. They offer a fast and friendly service whether you contact them via email or on the telephone. To get the best possible service it is recommended to use the live chat feature. Every member of the customer support team offers a professional, knowledgeable service and will help you to get the answer you need.
In addition, BinaryOnline has provided three different phone numbers to ensure that all its customers will receive the best possible support, no matter where they are located.
Conclusion
Although this firm is relatively new to the binary option scene, BinaryOnline has all the essential elements necessary to become one of the best brokers within the industry. It is a promising broker which offers an excellent range of technology and user friendly support.
TOP BINARY OPTIONS BROKERS
More related articles: