---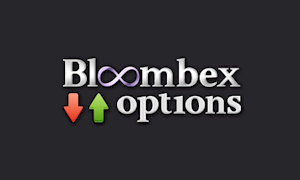 Bloombex Options has been trading since 2009; as such they are one of the oldest brokers in the industry. They are seen as a reliable, professional and forward thinking firm. In fact, they are always looking for the best thing to introduce next to both their traders and the market in general. This firm has been credited on several occasions with bringing new innovations and ideas to the forefront of the industry and improving the customer experience through creating new opportunities and formats for trading successfully.
The firm offers a rate of return as high as eighty five percent and a welcome bonus scheme which will provide up to one hundred percent of your initial deposit. Although the minimum deposit is slightly higher than average at $300, this is made up for by the fact you can trade for as little as $10!
Bloombex Options Advantages
This broker has a huge amount of experience in this industry and this helps them to provide one of the best services possible.
The site is complemented with a large range of educational materials; which will help you make the most of any trading opportunity.
You will be assigned a personal manager
They offer an account which is acceptable to those practicing Islam.
Funds can be transferred extremely cheaply if you use the right transfer method.
Disadvantages
Whilst most people can access the account, those living in the US, Israel or Iran are not able to.
There is no option to use a trial account to help get the feel of the site and learn how to trade.
Bloombex Options Features
Bloombex Options believe that the better educated you are the better your trades will be and the more success you will experience. In keeping with this belief they have a huge range of materials on their site, ranging from videos and e-books to personal tutors. With the information material available you should be able to read any chart and analyze market trends.
This broker also offers a variety of incentives to help you trade and to ensure you keep your business with them. One of the best ones is the risk free week. This is available to traders with specific account types. In effect you can place as many trades as you like in your first week of trading, if they are successful then you are happy, if they are not, then the broker will refund the investment for each of the bad trades! In effect you have absolutely no risk in your first week of trading!
New customers are also given a welcome incentive which will vary depending upon the value of your initial deposit; this can be as high as one hundred percent! Of course, this free money comes with terms and conditions. The biggest one is that you will not be able to with draw your funds until you have invested twenty seven times the value of your investment.
Trading Process
SpotOption is the largest software provider in the binary options industry. This is because it offers an easy to use platform which is constantly being improved and is easy to customize. This is the platform which Bloombex Options uses and it is proven to be extremely easy to navigate and use. This ensures all traders can focus on their trades, not on what the site is doing.
The firm offers a large range of trading options; you may prefer the traditional starting point of simply trading on a price movement; up or down. This is an excellent starting point for newcomers and a solid tactic for experienced traders. Alternatively you can opt to trade in longer term, potentially slower moving assets or look at setting boundaries and predicting prices.
If you are really adventurous you can set several prices and time frames within one trade; you will need to get everyone right to win the trade but the rewards are usually significantly higher.
Most sites now offer the ability to watch what other traders are investing in; this site offers this feature and it has been shown to be an excellent way for new comers to the field to gain a basic understanding of how trading works.
Finally, you can also choose to trade via a mobile option. Although it does not supply the full range of trades which you get when sat in front of the computer it will allow you to continue trading, wherever you are.
Withdrawals And Deposits
Bloombex Options takes your financial security very seriously, it works hard to keep personal information safe and every account is handled separately to ensure maximum security. Whether you choose to invest the minimum deposit or a higher amount of funds you will find there are many ways by which you can transfer the funds; even PayPal is an option.
It is important to note there are a range of fees which will apply when you wish to withdraw funds; these will vary depending upon your chosen withdrawal method. You are not able to withdraw less than $100 at a time.
Customer Support
As with most brokers it is possible to contact Bloombex Options support via live chat; this is generally the fastest and most responsive method. The advisors are professional, friendly and have a good range of knowledge. They also speak a range of languages making it easy to deal with issues no matter what your native tongue. If you prefer you can contact support via email or even the telephone.
More related articles: