Boss Capital Mobile Service
---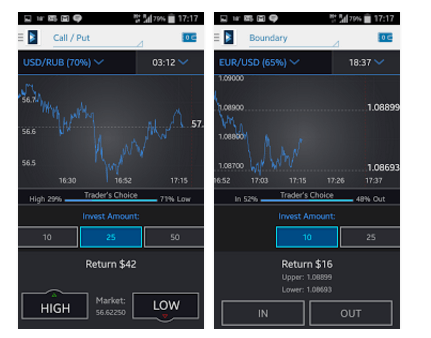 Technology is advancing daily, what was once considered science fiction is now becoming fact. Yet, despite the portrayal of a science fiction era and people having much more time to relax, the opposite has become true. Mobile technology has enabling people to be at work even when they are at home or travelling. The same has become true for those who choose to trade in binary options. Whether you trade part or full time there will be many opportunities missed simply because you are not sat in front of your computer. However, with the right mobile app you can access your account from anywhere and make the most of every opportunity.
The Boss Capital Mobile app is a good example of what can be provided by a binary broker. It is free to download, although you will need an account with Boss Capital in order to use it. The Boss Capital Mobile service offers the same range of products and trade options that you will find on the desktop site. The app is very easy to load onto your mobile device and equally as easy to use. The layout is simple yet functional and the Boss Capital mobile application is well supported via their customer service department.
Boss Capital welcome traders from all around the world; including the US. This is why they are aware of the different time zones people trade in and the importance of being able to trade at any time. The Boss Capital mobile app is designed to provide twenty four hour access to all trades, these include the ability to define boundaries and specify whether the trade will finish inside or outside of these boundaries. You can also choose to simply predict which direction a price will move in, or specify a price that the asset will either touch during a specified timeframe, or will not touch. Even short term trades, which are generally much less risky, are possible from the Capital Boss mobile app.
It is also worth noting that Boss Capital makes no charge for using this service. There are no additional commission charges or penalties for trading via the mobile app; it has all the convenience of being able to trade absolutely anywhere with the same level of service offered by their desktop site. You can even customize your settings to ensure you receive the signals and other information you would if you were on the desktop site. Finally all transactions are secure, whether on the mobile or desktop site.
The quality of the Boss Capital mobile app is a good reason to use this broker's services by itself!
More related articles: