---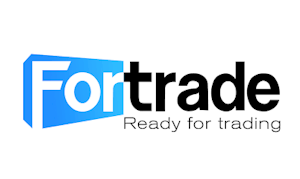 If you are looking to undertake CFD trading or forex trading then you will need to look at the services offered by Fortrade. The software is designed to be easy to use regardless of how long you have been trading in commodities or stocks. The controls are all intuitive and you will be able to access an impressive range of tools across a broad scope of financial markets around the world. Even better is the fact that the Fortrade system is exceptionally quick at processing any trade you place.
To inspire confidence in this system you will be please to note that Fortrade is based in the United Kingdom. As such it is fully regulated and licensed; complying with all the relevant parts of the Financial Conduct Authority guidelines.
The firm was created in 2013 and has managed to develop a good reputation as one of the best places to trade in CFD's and forex. It has now expanded and can be accessed in at least 250 countries!
Benefits of Using Fortrade
Fortrade is a safe forex trading platform or CFD trading option as it is completely compliant with the FCA rules; these are recognized as some of the strictest in the world. In addition you will receive a 30% registration bonus; although this is limited to £3,000. There are a wide range of assets which can be used to trade; currently in excess of 300 and the minimum funds you need to get started is just £100.
To encourage overseas traders the service is available in a multitude of different languages.
Fortrade Accounts
Most brokers offer a range of accounts depending upon your initial, deposit. However Fortrade deliberately offers just one account. You can open it with £100 although it is advisable to start with £500. You will also benefit from access to a practice account with £10,000 of virtual funds; this should help you understand the system and the market.
Fortrade Charges
You will be pleased to know that Fortrade does not make a commission based charge for their service; regardless of whether you are CFD trading or Forex trading. They do offer spreads based on the price difference in ask prices and the bid which vary according to the quality of the commodity; then highest being £0.04 for oil or precious metals.
The Fortrade Platform
The software used by Fortrade was developed in-house and has been specifically designed for maximum accessibility anywhere in the world. As such you should be able to access your CFD trading account via a mobile or tablet. The same is true for forex trading accounts. The software will even link to MT4 platforms to allow you additional control over your account.
One option is to download the Fortrade system; of course this will mean you need to access your account from the same computer every time but it is an impressive package and offers a range of benefits which will appeal to any serious investor. The alternative is to use the web based module. This aspect of Fortrade contains the majority of the features included in the desktop package but with the added convenience of easier access.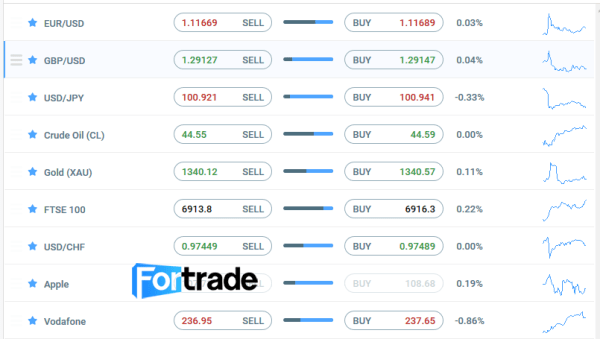 The mobile version of this CFD trading and forex trading software can be used on Android phones or with Apple products. One advantage of this is that you will receive all the latest news from the markets in real time. This can be invaluable when deciding which trade to place and at what time. The mobile Fortrade app will even allow you to place your trade instantly.
Funding Your Fortrade account
As a fully regulated business Fortrade takes as many precautions as possible to make sure your capital remains safe whilst with them. They use the standard SSL encryption which any respectable business uses and complies with all relevant data protection rules. You can fund your CFD trading account or withdraw from your forex trading account via credit card, Skrill, Neteller or even a standard bank transfer.
Fortrade Customer Service
You will be pleased to discover the helpful support team at Fortrade can be contacted at absolutely anytime via email from Monday to Saturday. You can also access this service via live chat on Monday to Friday. Perhaps even more impressive is that Fortrade offers its customer service in six languages; including English, Spanish and German. The website offers an additional two languages and there are plans to add more.
Fortrade Licensing
Fortrade's registration number is 609970. It is fully compliant with the FCA rules and seeks to provide the best possible service to all its traders; forex or CFD. Client funds are always kept separately and Fortrade seeks to offer a fair service at every opportunity.
Additional Fortrade features
CFD trading allows you to leverage your funds. Fortrade will allow this up to a maximum level of two hundred to one. Although if you go this high you are placing yourself at extremely high risk. Fortrade will also give you up to £3,000 when you create an account with them; this is done as 30% of whatever initial funds you deposit. It is worth reading the terms and conditions first.
TOP BINARY OPTIONS BROKERS
More related articles: