---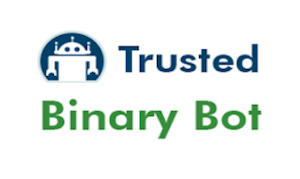 Binary trading has gained a huge following in recent years; this has led to an array of businesses offering dedicated niche products to make your trading easier. The Trusted Binary Bot is a binary option robot designed to automate your trading. This saves you time and reduces the need to understand the markets. The Trusted Binary Bot system is said to offer a new and unique way of achieving the goal of generating funds. Read this review to find out if what they are offering is genuine or not.
The Trusted Binary Bot Basics
Trusted Binary Bot says you can have returns as high as 90% by using this automated binary option robot. The cost of using the software is zero although you will need to deposit at least $200 with an approved broker. Unfortunately all the brokers approved by Trusted Binary Bot are not regulated. There is also a lack of evidence to support their claims and no attempt to monitor the news and how it affects trades.
What is Trusted Binary Bot offering?
Trusted Binary Bot offers you three names; Sam, Peter and Alfred. These are supposed to be the developers but there is no further data in respect of them and their previous experiences. They advertise the Trusted Binary Bot by explaining that they have found a way to beat the system and are using this within their software. Unfortunately both of these claims are common in dubious binary option robots.
It is claimed that they use a complex algorithm to monitor trends and locate when everyone will start to trade in a specific way. Apparently the software can predict the trend before traders start to do it allowing you to trade in advance and generate significant returns. Unfortunately this process relies on spotting a trend before the manual traders do; considering there are very few manual traders left this is unlikely to be true.
You should also be wary of any binary option robot which can only operate on trends; these can simply be too volatile to sustain a consistent high rate of return.
Is Trusted Binary Bot Safe?
There are simply too many flaws in what the Trusted Binary Bot software is offering to believe that this is a genuine product. You are advised to assume Trusted Binary Bot is a scam and take your funds elsewhere.
BEST BINARY OPTIONS ROBOTS
More related articles: