---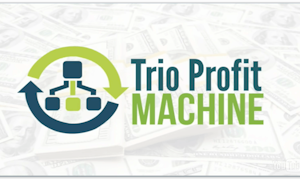 Binary options are not the only industry to have a high proportion of firms looking to relieve you of your hard earned cash. In fact, there are people operating scams in every possible marketplace. Trio Profit Machine is an internet marketing service but has many similarities with the scams you find in binary industries. Read onto find out more about the Trio Profit Machine and whether it is a scam or not.
Introduction to Trio Profit Machine
This website is free to access and use although access to income information is $7. It also appears to be operated by real people and to be a genuine site. It even offers returns of 90%. However, it should be noted that this site indulges in a range of deceptive practices using clever marketing ploys. The site is also full of links to other products in an unashamed attempt at affiliate marketing. It is even possible to purchase information through the site which can be obtained for free on the internet.
The Trio Profit Machine is the brainchild of Jani G and will teach you how to make money online through the use of three income sources. These are Impulse buying, money from downloaded pages and income from links followed through to sales.
Using the Trio Profit Machine
For your $7 the Trio Profit Machine will provide you with a fifty two page book which details the different income sources and will help you to generate an income in the same way. In fact, this is the first stream of income for the Trio Profit Machine. Although not strictly speaking a Trio Profit Machine scam it is simply a way to allow the creators to sell you more items through another range of links.
Conclusion – Is the True Profit Machine
This is not actually a scam, but True profit Machine does provide a good example of how you can pay for information that is actually available for free. Instead of spending $7 with Trio Profit Machine you will be better spending a little extra time researching the same information on the internet.
BEST BINARY OPTIONS ROBOTS
More related articles: